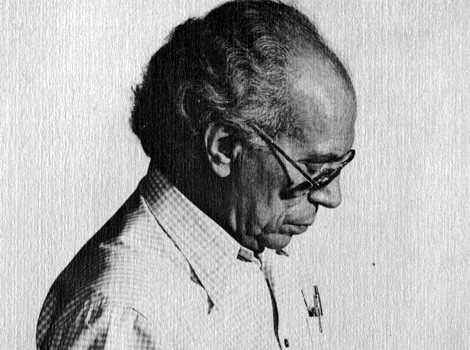 Joaquim Tenreiro (1906-1992) is the pioneer of modernist Brazilian furniture making. A forerunner in the use of rediscovered raw materials as well as the creator of a new formal language in 20thcentury Brazilian furniture design, he drew on the lessons of past furniture making as a vital source, not only in the mastery of technical and constructive solutions, but also in the aesthetic experience, craftsmanship, and the cultural meaning of his production. His exquisitely crafted pieces evoke a refined coexistence of traditional values and modern aesthetics, strongly bound to the Brazilian cultural milieu.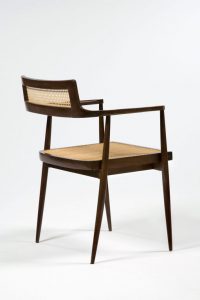 Born in Portugal to a family with a great tradition in furniture making, he moved to Brazil in 1928 at the age of 22. He embarked on a career as a designer by working at various furniture manufacturers such as Leandro Martins, Francisco Gomes and Laubisch & Hirth, which catered to wealthy Brazilian families eager to buy furniture with a conservative design that imitated traditional European styles. Tenreiro's vast experience in arts and crafts as well as furniture design was naturally contrary to such bourgeois expectations. Explicitly reacting against what he perceived as provincialism of a colonized society, Tenreiro proposed a contemporary language and advocated the idea that Brazilian furniture should be "formally light…A lightness which has nothing to do with weight itself, but with graciousness, and the functionality of spaces."
In the early 1940s, Tenreiro founded his own furniture studio, Langenbach & Tenreiro Ltda, where his work began to gain more recognition. However, it was not until the 1950s that he began to be recognized as a master furniture designer in Brazil. His design philosophy found a great response with architects who supported modernism. Tenreiro found in Oscar Niemeyer his greatest client, designing furniture for his houses and completely breaking away from the virtuosity of antique styles. He developed a language adapted to the country's heat, using wicker and Brazilian hardwoods in abundance.
In spite of his success and his professional recognition, Tenreiro closed his furniture studio in 1967 and decided to devote himself exclusively to fine arts, taking up once again a path that he had discontinued long before. During the next following decades until his death in 1992, his works were included in many art and design exhibitions held at renowned galleries and museums in Rio de Janeiro and São Paulo. A forerunner in the truest sense of the word, the "father" of modern furniture in Brazil left behind an unrivaled aesthetic legacy.